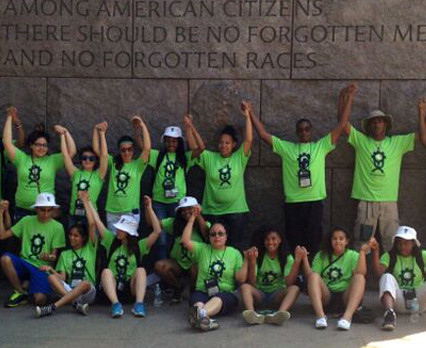 About MIGU
Michigan GEAR UP (Gaining Early Awareness and Readiness for Undergraduate Programs) is a statewide collaborative effort providing early intervention services in two key areas:
Early awareness to college exposure: This includes financial aid/admissions information, college choice and other important knowledge necessary for students to become prepared to pursue post-secondary options.
Readiness for undergraduate programs: This refers to skill building and academic preparedness, including reading literacy, critical thinking skills, study techniques, and test-taking ability.
The U.S. Department of Education awarded a multi-million grant to Michigan, spread out over a seven-year program, distributed among the 15 public universities. The program begins in 7th grade and students are followed through their freshman year of college. The program assists students in their senior year of high school with financial aid by providing important information about F.A.F.S.A. applications and competitive scholarships, including limited funding for scholarships awarded to long-time program participants, in a competitive selection process.
KCP/GEAR UP Summer Residency 2022
The KCP/GEAR UP Summer Residency Program at Michigan State University provides a full educational enrichment experience for the Class of 2026 Cohort. Executing the program in a residency model allows students to experience college life and develop beginning campus skills, plus introduces them to the wonder of the post-secondary opportunities. Academic, SEL (Social Emotional Learning), and Recreation activities are offered in a Sunday-Wednesday format. Teambuilding, Study Skills, Financial Literacy and other Life Skills activities are offered also. Students leave the residency each summer with an increasing repertoire of skills for navigating college and life after high school.